Gear List
Microphones
Neumann U87 ai Microphone
1 - Beyerdynamic M 201 TG Dynamic Hyper cardioid Microphone
3 - SM57's
1 - Austin True Blumlein Stereo Ribbon Microphone with Lundahl Transformers
2 - Peluso PR-28 Pencil Condenser (stereo pair)
1 - Heil PR-48 Kick Drum Mic
1 - BLUE Microphone – KIWI
2 - Sennheiser MD421 II
2 - AKG 3000c
1 – AKG C1000s
1 – Custom Sub Kick Mic
And More...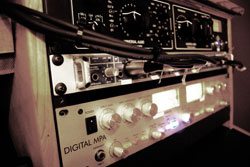 Mic Pre's:
1 – Universal Audio LA610 MKII
4 – RME FireFace 800 Class A Mic pre
32 - Class A Mic pre's (Console)
1 – Stereo Art MPA Gold Mic pre
1 - Hairball Lola Mic Pre with BA512 op-amps
1 - Classic API VP28 with Red Dot op-amp
And more...
DAW
Sonar's Cakewalk X1 Producer ED
Avid Pro Tools 10, 11
Logic Pro X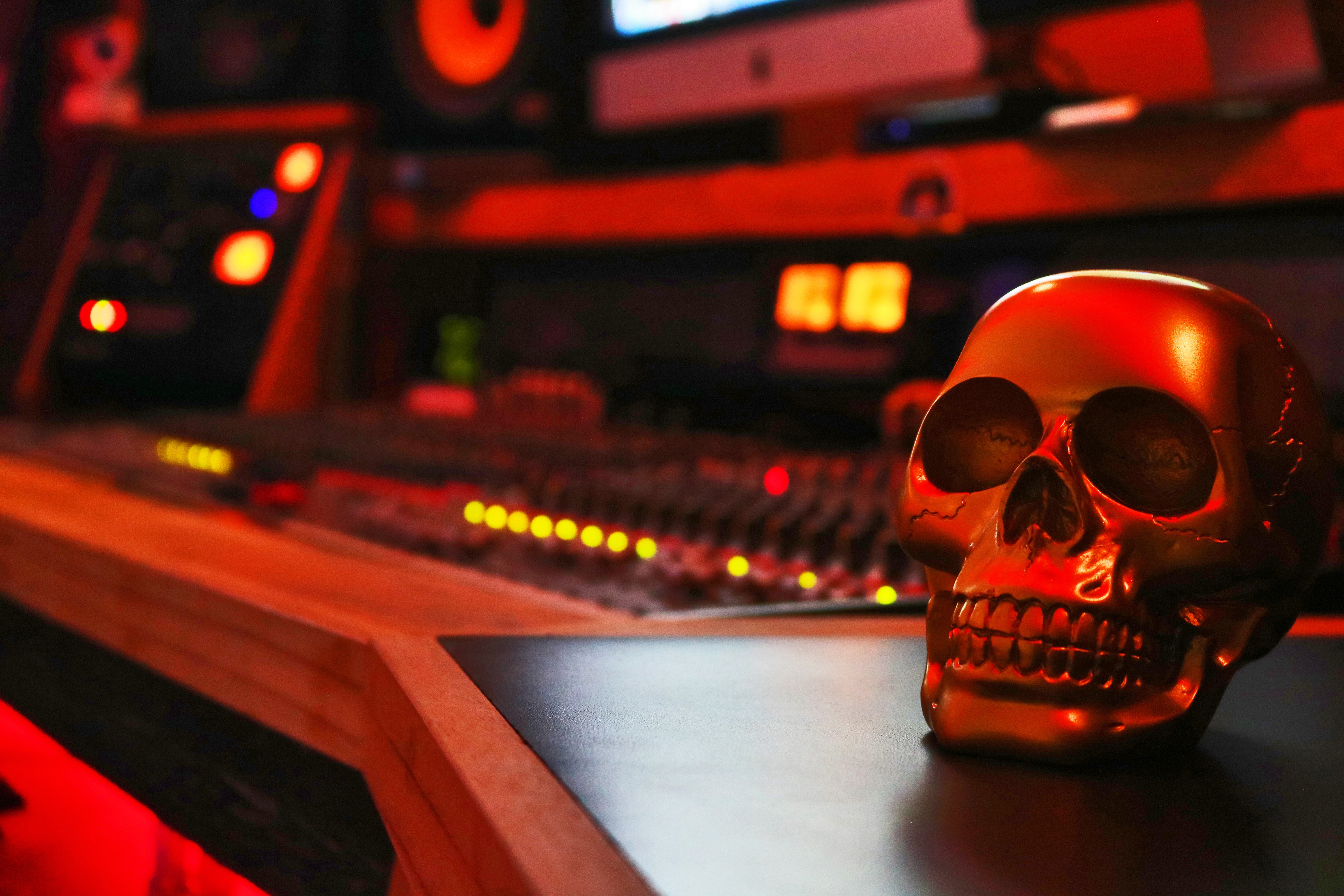 COMPRESSORS & EQ'S
2 – LA2A Classic Leveling Amplifire
1 – 1176 FET Compressor
1 – dbx 520 De-Esser
32 – Channels of 6 band eq's (console)
1 – UA T4 opto-compressor (UALA610 MKII)
1 – Dual Drawmer DL221 Compressor
1 - GSSL Stereo Buss Compressor (Master Buss Compressor)
1 - Sound Skulptor EQ1073 (Neve style)
Blue Mic - The Kiwi, Neumann U87Ai, AKG 3000 B Mic, Shure Sm57 Mic, RME FireFace Studio 800, Axiom 49 Key Midi Controller, Many VST Plug-Ins, Rokit KRK 8's Studio Monitors, Universal Audio LA-610 MK2 Preamp/T4 Optical Compressor, ART-MPA Digital Gold Stereo Microphone Pre-Amp,Lexicon MX200, Precedent Series 600 Power Amp, Alesis Quadra Verb (Audio Effexs Processor). Two Pc Video Monitors 22", and more…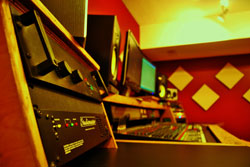 The Plug-Ins I mainly work with are award winning Plug-Ins. They are used by some of the top music producers, video game makers, movie producers and foreign language over dubbing. I have over 1,000 of different plug-ins (All the FX's You Need). From Wave's Bundles to Sonitus Vst's. I also have some of the best Soft-Synths from the Korg - Legacey to the Native Instruments Pro - 53.
32 Channel 8 Bus Console has phantom power on every strip. The console has its own custom-built desk, and the Metering Bridge. The console routes everything I/O and is the control station of the studio.
Neumann U87 Ai is arguably the best known and most widely used studio microphone in the world (for good reason), the easy-to-recognize U 87 is a classic! A distinctive design and legendary Neumann sound make this mic a must-have for pro studios. The U 87 is known for its unique frequency and transient response characteristics which deliver a smooth natural sound with a variety of source material.
The UA LA-610 MkII combines an all-tube, vintage mic preamp design — heard on classic albums ranging from The Beach Boys' Pet Sounds to Van Halen I — with authentic Teletronix T4 opto-compression circuitry. This classic channel strip design, with its warm preamp tone and smooth, natural-sounding compression, is updated with modern, user-requested features like true compressor bypass, larger metering, increased output, and an auto-switching power supply.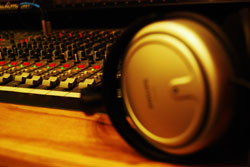 The Blue Mic-Kiwi  Featuring Blue's world renowned B6 capsule, the Kiwi delivers the detail of its sonic signature all at once with lots of top end (without being too in your face!), along with lots of mids and bottom end, without being too forward. Designed to set the standard for solid state microphones, the Kiwi yields lush vocals, stunning acoustic guitar and gorgeous piano sounds from nine different polar patterns (Omni, Cardioid, Figure of eight and everything in between). This is the Blue microphone.
The Fireface 800 is the world's most powerful FireWire audio interface ever. Up to 56 channels record/playback, up to 192 kHz sample rate and true FireWire 800 sum up to an unsurpassed high-end, high performance and high speed FireWire audio interface. Since the Fireface first shipped in July 2004, the unit became the reference for FireWire audio - and still is today!
The AKG Microphone is a dynamic AKG C 3000 B Condenser Mic is incredibly versatile Large-Diaphragm Cardioid Stage and Studio Microphone.  Gold-coated capsule combines the best of large diaphragm and micro transducer technologies for performance quality worthy of the most demanding studio applications. 20Hz-20 kHz frequency range, -10dB switchable preattenuation, 6dB low-frequency cut, and integrated windscreen. and hard case. Phantom power.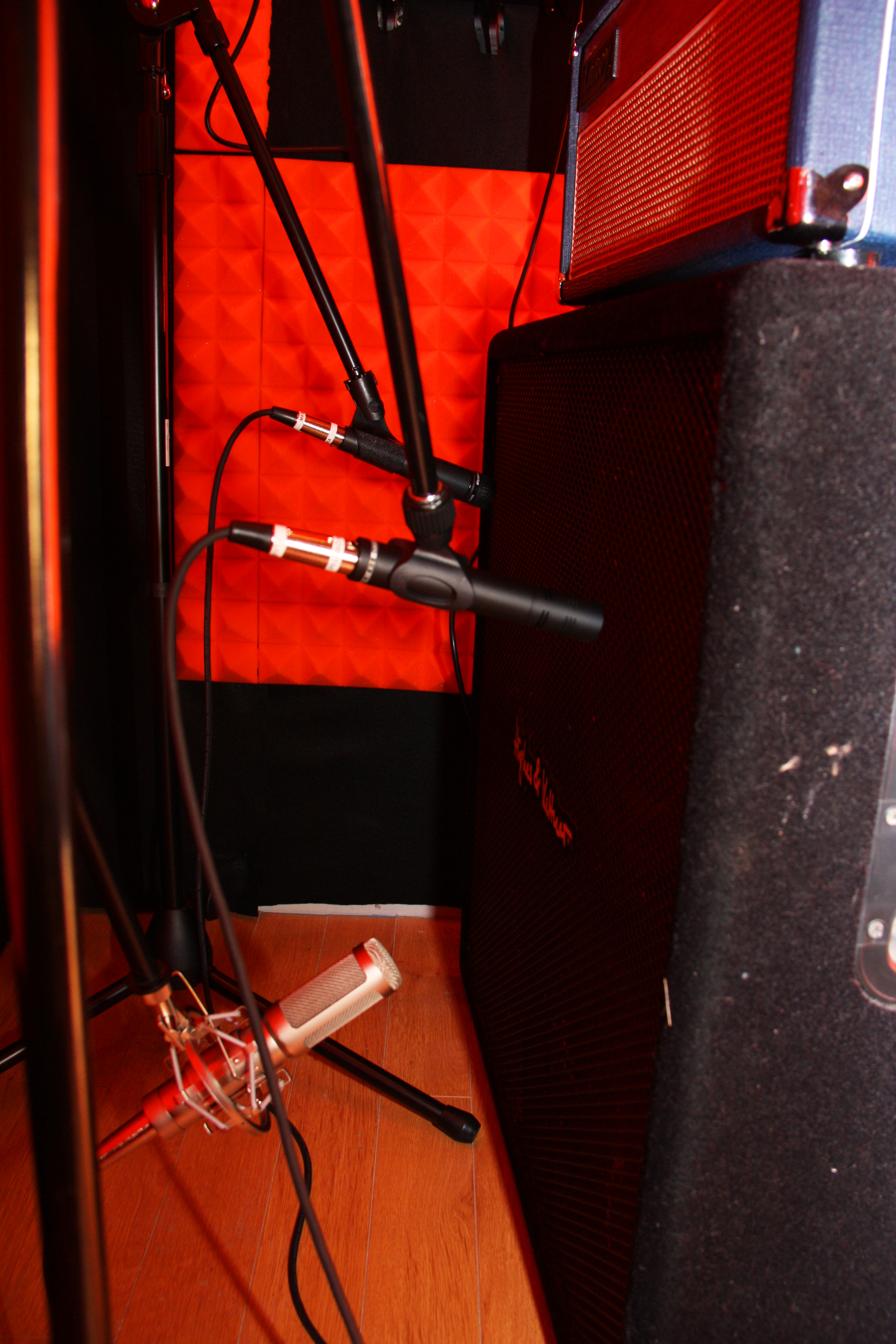 The Shure Sm57 Microphone The legendary Shure SM57 microphone is exceptional for musical instrument pickup and vocals. With its bright, clean sound and contoured frequency response, the SM57 is ideal for live sound reinforcement and recording. It has an extremely effective Cardioid pickup pattern which isolates the main sound source while minimizing background noise. In the studio, it is excellent for recording drums, guitar, and woodwinds.
The RP-8 Rokit powered monitor has an 8" woofer made of a woven glass aramid composite for a tight low-end response. 1" soft-dome tweeter emits natural-sounding highs. The drivers are electronically crossed over and biamped for increased efficiency. All of this is housed in an attractive cabinet with radiused corners that reduce edge diffraction, resulting in better audio imaging. The rear input panel has RCA, 1/4" TRS, and XLR connectors.
Sonar Cakewalk 7 Producer ED is multi-track recording/editing software, perfect for Analog to Digital recording. The software comes with a comprehensive feature set, that is a complete music production studio, and provides everything needed to take music from inspiration, to finished CD.
Axiom 49 key semi-weighted USB mobile MIDI controller with assignable after touch, eight triggers and 36 other controllers. 49-Key Semi-Weighted USB MIDI Keyboard Controller. Made by M-Audio.